Upcoming Meeting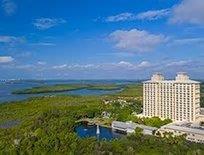 The Hyatt Regency Coconut Pt
Bonita Springs, FL
June 20-22, 2018
The Spring Meeting of the Southeastern Actuaries Conference will be held June 20-22, 2018, at The Hyatt Regency Coconut Pt in Bonita Springs, FL. This is a great opportunity to earn continuing education credits, to reconnect with your fellow SEAC members, and to make new connections with other actuaries.
Meeting Registration

Meeting Program

Meeting Agenda and Presentations
The hotel room rate is $xxx per night. Registrations must be made by xxxxxxxxxx to be eligible for the group rate. Reservations can be made online, or by calling xxx-xxx-xxxx or click here (tbd). Be sure to reference SEAC or Southeastern Actuaries Meeting to get the group rate. Please check the website for any updates regarding room availability. If you have difficulties making your reservation, please let Rebecca Scotchie know (rscotchie@unum.com).
SEAC Appreciates Our Meeting Sponsors: